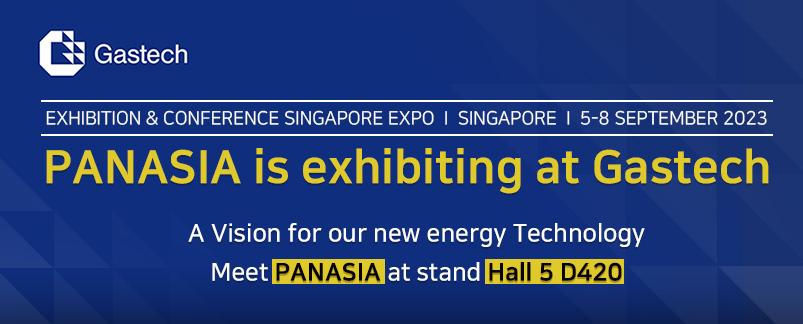 The world's largest Exhibition for the gas and energy industry. 
Gastech, which has more than 100 countries, more than 40,000 attendees, more than 600 experts speakers, started in 1972.
This year 2023, Panasia is exhibiting at Gastech for the first time.
Location    : Exhibition & Conference Singapore expo, Singapore
Date          : 5-8 September 2023
Booth No. : Hall 5 D420
Panasia, has with a diverse range of carbon-neutral technology solutions and possessing in-house design and manufacturing capabilities. 
We are planning to meet with you this September at Gastech.
The topic of carbon neutrality and net-zero has become a crucial issue for the global community, transcending land and maritime industries.
Through this year's GasTech, We plans to show our decarbonization solutions.
Carbon Capture & Storage System

Hydrogen Generation System

Fuel Supply System

Exhaust Gas Cleaning System

CCS

OCCS

LNG reforming

system

Ammonia Cracking

system

FGSS

LFSS

De-SOx

Scrubber System

De-NOx

SCR system
Join us at Gastech and discover the latest innovations in green solutions with industry experts.
Don't miss out. See you at Gastech.
Ready-now green solutions. Accelerate your journey to Net Zero
◎ Carbon Capture & Storage System
| Pan-CCS /Pan-OCCS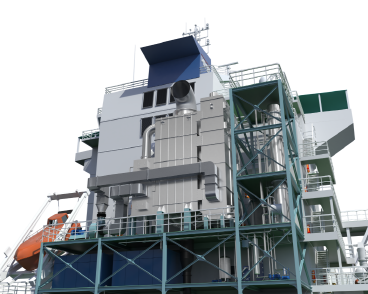 Carbon capture technology is considered one of the most important technologies in reducing the carbon emissions, the main cause of climate change. It serves as a vital technology to achieve the goals of the UN framework convention on climate change. Panasia's CCS(Pan-CCS) is a system that captures and utilizes carbon dioxide generated during combustion of fossil fuel to generate power and produce hydrogen, in order to reduce the amount of CO2 released into the air.
The absorption of CO2 by liquid solvent is one of the most promising processes for capturing and storing CO2.
Onboard Carbon Capture and Storage System is a system that captures carbon dioxide generated during the combustion of fossil fuel, in order to reduce the amount of CO2 released into the air.
◎ Hydrogen Generation system
| PanaGen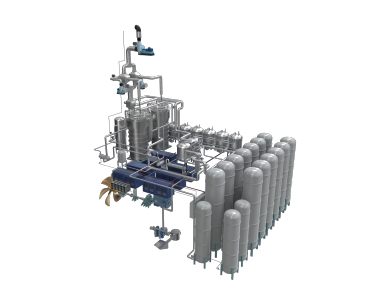 Panagen (hydrogen generation system) is a renewable energy solution designed to generate hydrogen and achieve carbon neutrality in the hydrogen energy industry. PanaGen generates hydrogen through cracking ammonia to utilize for household, construction, and industrial plants.
Ammonia has been luring great attention as the optimal solution for hydrogen transportation. The Ammonia Cracking system is a technology that cracks ammonia molecules into nitrogen and hydrogen to produce hydrogen.
◎Fuel Supply System
| Pan-FGSS (FGSS, LFSS)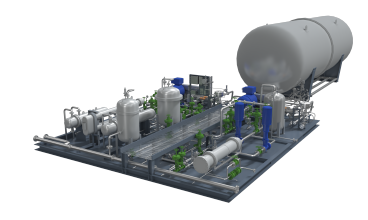 The purpose of the 'fuel supply system' is to deliver fuel at the right temperature and pressure to the engine.
FGSS(Fuel Gas Supply System) has to supply LNG or Boil Off Gas generated from LNG fuel tanks to the engine while complying with the requirements on temperature, flow, pressure and capabilities.
As many have growing interests in methanol and Ammonia as the future fuels, this system rises as one of the new solutions of the decarbonization compliant with the 2020 IMO low-sulphur regulation.
Eventually, the fuel gas supply system becomes the main system for future fuels. 
Similar to FGSS, LFSS is a system that safely supplies fuel to ships powered by carbon-free fuels such as methanol and ammonia. Many vessel owners believe that, ten years from now, they will be one of the future fuels for the decarbonization. Panasia is capable of providing equipment for supplying all sulphur-free fuels, ranging from LNG to next-generation carbon free fuels like ammonia and methanol, for future vessels. Panasia offers a cutting edge control system for energy solutions of today's methanol and ammonia projects. Prepare your vessel for carbon-free fuels with an exclusive energy solutions from Panasia.
◎ EGCS(Exhaust Gas Cleaning System)
| PaSOx

PaSox(Scrubber) is classified into onshore and marine systems. Onshore scrubbers are used in power plants or industrial facilities that need to reduce emissions. Scrubbers on ships are wet scrubbers that use seawater. A wet scrubber helps prevent air pollution by reducing sulfur oxide emissions caused by the burning of high-sulfur fuel oil. PaSOx is a customized solution made for a range of applications, regardless of plant size, ship type or ship size.
| PaNOx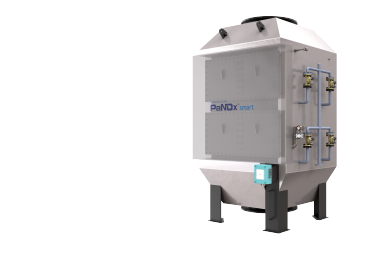 PaNOx is an eco-friendly solution that uses the Selective Catalytic Reduction mechanism to decompose nitrogen oxides from exhaust gas into harmless water (H2O) and nitrogen (N2) and release them. At PANASIA, we offer PaNOx for large-scale onshore systems for releasing exhaust gas emissions, such as power plants and boilers, and PaNOx Marine for ships, which is designed to meet the IMO Tier III standards.